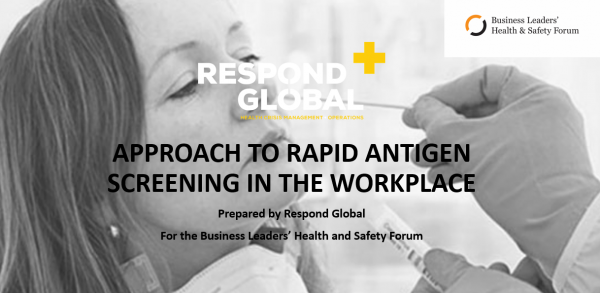 Supporting you to use RATs in the workplace
The Forum has commissioned Respond Global in Australia to provide some support to members about their approach to RATs at work, particularly where supply is constrained.
Download this short guide to support you and your organisation to understand how to effectively screen staff to minimise the risk of Covid-19 in your workplace, using RATs to slow down transmission and managing with a constrained supply of RATs.
Below this guide is Supporting Evidence which has further detail on the science and research behind this approach and advice. We have also included two factsheets on supporting you to deploy RATs in a work environment.
Approach to RAT screening in the workplace
PDF • 1.3 MB
View
Supporting evidence
This supporting evidence from Respond Global outlines the science and studies to date on workplace RAT use.
Supporting evidence of efficacy of RATs and deployment options
PDF • 815 KB
View
RAT screening at work (resource)
Site Flow for the Test for employer
PDF • 244 KB
View
RAT screening results - flow chart (resource)
Antigen Screening Results Flow Chart employer
PDF • 95 KB
View